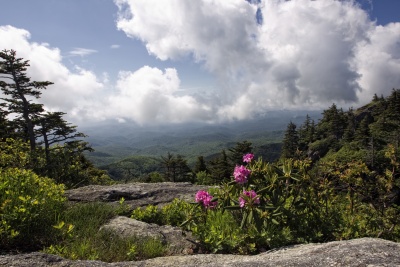 The specialization area of the Appalachian State University Combined Graduate Program in Nutrition and Dietetics is Rural Health. ASU's location in the beautiful southern Appalachian Mountains provides an ideal setting for research and practice designed to foster excellence in the delivery of nutrition care to persons from a variety of rural cultural backgrounds.
Members of the Graduate Nutrition faculty, Dr. Melissa Gutschall and Ms. Kyle Thompson, are actively engaged in rural health research. Dr. Gutschall and Ms. Thompson presented their research at FNCE 2013, 2014, and 2015. They are incorporating their findings into program curricula in order to build a cutting-edge, evidence-based framework for providing nutrition care to rural patients and clients. Dr. Gutschall and Ms. Thompson have developed a Rural Health Nutrition Practice Model, based on original research completed at ASU, and students may have the opportunity to participate in ongoing rural health research.
Dr. Martin Root, another faculty member is actively involved in research on older heirloom apple varieties common in western North Carolina. Working with several local farmers, he is characterizing these unique apples and their phytochemical constituents.
Objectives of the Rural Health Concentration
Students will engage in supervised practice activities in rural settings, and will work with clients/patients who live in rural areas. Dietetic Interns will demonstrate the ability to perform the following rural health care competencies during supervised practice rotations:
Justify rural nutrition programs and services using appropriate evidence and data.
Use effective nutrition education and counseling skills to facilitate behavior change in individuals and groups in rural healthcare settings.
Develop culturally effective nutrition education tools for selected rural target populations.
Provide nutrition care utilizing the Nutrition Care Process with a specified number of individuals from rural populations.
Collaborate effectively with stakeholders in rural environments in the implementation of culturally appropriate nutrition interventions.