About the Program
The Nutrition and Foods program offers concentrations in Dietetics and in Foodsystems Management. At Appalachian State University, students who intend to become Registered Dietitians take the Dietetics concentration.
Courses in Foods and Nutrition were first offered at Appalachian in the academic year 1945-46 in the Department of Home Economics. In 1967-68, an Option in Institutional Administration was available. Approval by the American Dietetic Association was effective in 1969-70. In 1983-84, a Foods and Nutrition major was offered with two concentrations: General (Dietetics) and Food Systems Management. Accreditation of the dietetics concentration by the Accreditation Council for Education in Nutrition and Dietetics (ACEND) was accomplished in 1991. In 2010, the program was renamed Nutrition and Foods and was moved to the new Beaver College of Health Sciences.
Since the beginning of the dietetics program, the emphasis has been on general dietetics in order to meet the needs of the region served by this university. Alumni remain very supportive of the program by providing training opportunities for our students in the undergraduate internship and serving as quest speakers when requested. In fact, nearly every Registered Dietitian in the local district has a relationship or connection with the Nutrition and Foods program at ASU.
The Foodsystems Management concentration has provided an option for those students wanting to focus on the management aspects of food production and service in such venues as schools, hospitals, and the hospitality industry.
In the fall of 2020 a new concentration, Nutrition and Wellness was added to the curriculum. While this concentration does not lead to the RDN credential, it does meet the growing need for degreed food and nutrition professionals to learn best practices for promoting healthy lifestyles to diverse sectors, such as community/public health nutrition organizations, communities and populations. These professionals are trained to fill positions at the local, state, national and global levels, including jobs within government health agencies such as WIC, Head Start, 4-H, cooperative extension, school systems, non-profit agencies, food systems and food security organizations, environmental education, and community health programs across the state, region, country and globally. Additionally, the Nutrition and Wellness concentration will prepare students who seek careers in: community/public health nutrition, corporate wellness, nutraceuticals, wellness facilities or further education in the health sciences.
Additional program information.
Research Spotlight — Alisha Farris, Ph.D., RDN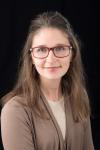 Dr. Farris is an Assistant Professor in Nutrition specializing in community nutrition, specifically community food security across life stage groups including college students and maternal and child nutrition-related issues. She works with on-campus food insecurity issues gathering research on prevalence, coping strategies and potential interventions through campus food pantries, free meals and education. Dr. Farris also teachers courses that encourage students to critically assess the social determinants of health which cause many of the systemic issues around food insecurity in the U.S. and in Madagascar where she has an ongoing nutrition and food security intervention program. She has authored and co-authored many publications and presentations in her research area, including national and international presentations. She was awarded the 2018 Public Health Division Practitioner Research Award by the Society for Nutrition Education and Behavior (SNEB).
Beginning in the fall semester (2020) the Beaver College of Health Sciences will require all graduate and undergraduate students, who as a part of their program of study have required or elective clinicals, internships, field placements, or practicums, to submit to a criminal background check. The BCHS policy can be found here.