Master of Science in Nutrition and Dietetic Internship
MS/DI Virtual Open House Event
Please complete the prospective student interest form to share about your interest in our program.
The Fall 2023 Open House Events will be hosted on the following dates:
NDEP Inperson Fair at FNCE, Sun October 8 at 4:30 PM, Denver CO
MS/DI Virtual Open House - Wednesday, October 25 from 12-noon - 1 PM (drop-in on Zoom)
MS/DI Virtual Open House - Wednesday, November 29 from 12-noon - 1 PM (drop-in on Zoom)
MS/DI In-person Open House (in-person) - Friday, December 1 at 1:00 PM ET (LLHS)
*All Virtual Open Houses are hosted on Zoom. Complete the Event Registration and a Zoom link will be shared with you.
We are also happy to schedule a one-on-one meeting with prospective students. Feel free to contact the DI Director to learn more!
Student Experiences
Below are videos of students describing their experience with the Masters of Science in Nutrition program and the reason the why they chose Appalachian State University to complete their degree.
Why complete your Masters and Dietetic Internship at ASU?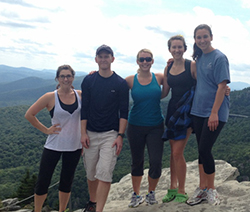 Thanks for asking. The Graduate Program in Nutrition at Appalachian State University is a rapidly growing program. We draw students from around the nation to the beautiful High Country of North Carolina to our Combined Program that includes a Master of Science degree and a Dietetic Internship accredited by ACEND. The program draws on the strengths of the Beaver College of Health Sciences, Appalachian State University, and indeed the whole region. Here are four reasons to consider Appalachian as your first choice destination for graduate school and an internship.
Combined Dietetic Internship and Master of Science Degree
Rural Health Focus
Faculty Breadth
Live in the Mountains
Combined Dietetic Internship and MS Degree
Many academic Master of Science programs require two years of courses and some research. If your interest is really in becoming a Registered Dietitian, this can seem somewhat of a detour. However, at App, we combine the Master's program and the Dietetic Internship. In two years you will have completed both the courses and the research for a Master of Science degree, and you will have completed all the rotations that are part of the Dietetic Internship. Most students take the Registration Exam in the summer after completing our program. Soon after completing the program, you can have "MS, RD" after your name. Done!
Choice of Program Pathways
1. Program-Identified Pathway (PIP)
Students admitted to the Program-Identified Pathway (PIP) will complete dietetic internship rotation requirements in locations obtained by Program personnel. Rotation sites and locations for interns entering supervised practice are assigned by the end of the second week in April during the academic year prior to the supervised practice year.
PIP students should expect to move away from Appalachian State University to locations throughout central and western North Carolina during the supervised practice year. Students must have access to a vehicle, as travel to rotation sites will require driving. Students are responsible for providing their own housing and other living expenses.
While students will be asked to provide three preferences for supervised practice locations, no student can be guaranteed any particular site. Site assignments are based on many factors, and student preferences are given consideration during the assignment process. However, PIP students should understand that they may not receive any of their preferred sites.
The DI Director or appropriate designee will assist the student in completing required documentation for entrance into assigned facilities.
All rules, guidelines, and policies regarding supervised practice and progression through the dietetic internship are provided in this Handbook.
2. Intern-Identified Pathway (IIP)
Students admitted to the Intern-Identified Pathway are responsible for obtaining their own rotation sites, and thus, may be able to obtain sites in locations where living expenses may be reduced. Students will be expected to have obtained their supervised practice sites by the Friday of the second week in April during their first Program year, or other date as specified by the DI Director.
The Program will provide IIP students with appropriate and adequate orientation, supervision, guidance and progress checkpoints during the first year in the Program in regards to obtaining suitable supervised practice sites.
All rotations obtained by SPP students must be approved by the DI Director or appropriate designee prior to the student's entry into a rotation, and must meet pre-determined criteria for site suitability. Site criteria will be provided to IIP students.
Students not obtaining supervised practice sites in accordance with the timeline designated by the DI Director are not guaranteed progression through the Program.
All sites obtained by the IIP student will be subject to requirements to obtain a legal affiliation agreement with Appalachian State University as approved by University Counsel. Appalachian State University takes responsibility for completing affiliation agreements with supervised practice sites. The DI Director or appropriate designee will assist the student in completing required documentation for entrance into approved facilities.
Students who are admitted to the Appalachian State University Dietetic Internship program, in either pathway, may not change pathways during the course of the Program, with the exception described below:
Should a student encounter extenuating circumstances that could warrant a change of Program pathway, the DI Director may consider such requests on a case-by-case basis. The following criteria must be met before a change of pathway can be approved:
The DI Director, Department Chair, and appropriate ACEND personnel must approve the request based on a finding that a change of pathway is appropriate due to extenuating circumstances and is in the best interests of the student.
Program-obtained or intern supervised practice sites must be available for the student.
The change of Program pathway must not hinder or impede any other student's progression through the Program; i.e. by using resources such as supervised practice sites already designated for a Program Identified Pathway student.
In no case is a change in Program pathway guaranteed once a student is admitted to a specific Pathway.
All rules, guidelines, and policies regarding supervised practice and progression through the dietetic internship are provided in this Handbook.
Rural Health Focus
The concentration area of the ASU Dietetic Internship is "Rural Health". Our rural health emphasis provides a plethora of opportunities for student experience and research. Few places are better suited for the study of rural health than the Appalachian region of western North Carolina. If you are interested in health disparities, cultural competency, and providing nutrition care to underserved populations, Appalachian State may be the right place for you.
Faculty Breadth
The research interests of seven research faculty members in the Nutrition program span quite a range. With an overall interest of the program in Rural Health, several faculty focus their research on the local rural area, exploring traditional and current dietary practices. With strong research partners in the Exercise Science program on campus and with the proximity of the North Carolina Research Campus in Kannapolis, several faculty focus their research on the interaction of nutrients and foods on physiological and athletic outcomes. Current research is ongoing in behavior modification, snacking behavior, chronic disease epidemiology, Appalachian traditional foods, school lunches, oxidative stress, phytonutrients, and simulation in dietetics education.
Meet our faculty on the faculty directory.
Live in the Mountains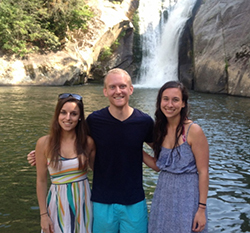 Situated in western North Carolina's spectacular High Country, ASU students can enjoy some of the best hiking, downhill skiing, and outdoor recreation areas in the Eastern United States, all within short driving distances of the University. The Blue Ridge Parkway, with entrances adjacent to Boone, offers incomparable views of the breathtaking Blue Ridge Mountains. The renowned Appalachian Trail can be reached easily from Boone. The Roan Highlands area, acclaimed by many as one of the most scenic portions of the Appalachian Trail, lies within 30 miles of the University. Students can enjoy the Sugar Mountain and Beech Mountain ski slopes, beautiful Watauga Lake, and an abundance of challenging hiking trails. Outdoor enthusiasts will find a varied range of recreational options in and around Boone.
The High Country offers the best of a rich and diverse Appalachian cultural heritage. Flatpicking guitar legend Doc Watson called the Boone area his home, and the famous Merlefest Bluegrass Festival is held annually within minutes of Boone. Local food and sustainable agriculture are an important part of the Boone scene. Students can enjoy many unique eateries within minutes of the University. Traditional mountain arts and crafts are still practiced by area artisans. At Appalachian State University, you'll experience beautiful surroundings, friendly people, and the finest of the historic Appalachian culture.
Accreditation
The Dietetic Internship, which is part of the Master of Science degree in Nutrition, is accredited by the Accreditation Council for Education in Nutrition and Dietetics (ACEND) of The Academy of Nutrition and Dietetics, 120 South Riverside Plaza, Suite 2190, Chicago, Illinois 60606-6995. 800-877-1600 ext. 5400. (www.eatrightpro.org/acend)
Beginning in the fall semester (2020) the Beaver College of Health Sciences will require all graduate and undergraduate students, who as a part of their program of study have required or elective clinicals, internships, field placements, or practicums, to submit to a criminal background check. The BCSH policy can be found here.