Graduate Programs in Public Health Nutrition
About our Graduate Programs in Public Health Nutrition
Learn to lead, promote, develop, implement and evaluate programs and policies that drive optimal nutrition and well-being with Appalachian's completely ONLINE graduate Public Health Nutrition (PHN) programs!
Our innovative programs connect you from wherever you are with distinguished faculty that will help you develop effective leadership skills, research skills, stimulate independent thought and provide up-to-date knowledge in food, wellness and public health.
Our program aligns with the mission of the Association of State Public Health Nutritionists (ASPHN), which is …"to strengthen nutrition policy, programs and environments for all people through development of public health nutrition leaders." (asphn.org)
Nutrition is at the forefront of current public health policy and practice. An increased demand for university-trained specialists to meet population health needs is reflected in faster-than-average growth in employment opportunities for nutrition professionals. The Graduate Certificate in Public Health Nutrition Practice and the Masters of Science in Nutrition with Concentration in Public Health Nutrition prepare next-generation professionals to bring leadership to public and private agencies. Graduates are equipped to develop, implement, and evaluate nutrition, health promotion, obesity and disease prevention programs designed for and with a diverse array of populations. Led by a strong faculty with extensive expertise and experience in public health nutrition practice and research, graduates of Appalachian State University's PHN programs are well-prepared to deliver effective nutrition programs in a variety of health care settings.
Courses in nutrition and foods have been offered at Appalachian State University since 1911. Over the years, the program transitioned from a degree in home economics to a dietetics program offering undergraduate and graduate preparation for dietetics practice. The Department of Nutrition and Health Care Management (NHM) was formed within the newly formed College of Health Sciences in 2010 and nutrition and foods programs moved to the new College. Beginning in the fall of 2016, Dr. Margaret Barth, Chair of NHM, identified a need to expand the University's graduate nutrition programs to encompass a PHN degree option not associated with a dietetic internship. Planning for the PHN concentration continued throughout 2016, 2017 and 2018 as the program proposal moved through Appalachian State University and University of North Carolina approval processes. Final approval of the concentration for both a Masters of Nutrition and Graduate Certificate was granted by theUniversity of North Carolina Board of Governors on February 19, 2018.
The Graduate Certificate in Public Health Nutrition Practice is a 15-hour, 1-year graduate certificate focused on the leadership, implementation and evaluation of effective public health nutrition interventions in a variety of settings. The Graduate Certificate provides a seamless bridge into the Master's degree program; students who are successful in the Certificate program (defined as maintaining a "B" average) may move seamlessly into the Master's program with all Certificate credits transferred.
The Master's of Science in Nutrition, Concentration in Public Health Nutrition, is a 39-hour, 2-year graduate program which emphasizes all aspects of PHN program leadership and management along with a focus on research, epidemiology and completion of a PHN capstone project.
The Graduate Programs in PHN are designed to prepare students for successful careers in the exciting and expanding field of public health nutrition. Graduates are well-positioned for leadership opportunities in government at all levels, the non-profit sector, public health agencies, school districts and educational institutions, and many other venues. The program curriculum is designed to meet suggested competencies for public health nutritionists as recognized by the Association of Graduate Programs for Public Health Nutrition (http://agpphn.org) and the World Public Health Nutrition Association (http://wphna.org).
Program Details
Online Program
The program is offered online through App State Online, making it available to working professionals desiring to advance their careers. With eminently-qualified nutrition faculty teaching in both the undergraduate and graduate programs, the rigor and quality for which the Appalachian State University graduate dietetics program is known is carried forward to the PHN program. Working professionals will earn either a Graduate Certificate in Public Health Nutrition Practice or a Master of Science in Nutrition with Concentration in Public Health Nutrition, while still working and/or managing personal responsibilities. Students' certificates or degrees will be awarded by a University of North Carolina member institution with over one hundred years' experience educating nutrition and foods students.
The courses are designed with the working professional in mind including a theory to practice perspective that incorporates authentic projects and assignments in an active learning environment. The use of digital technologies allows students to meet and interact when convenient yet simulates the quality of the face-to-face classroom.
Students are provided with extensive support from Appalachian State University's experienced staff at Distance Education, the Cratis D. Williams Graduate School, and Technology Support Services.
Part-time enrollment with 1- or 2-years to completion
The 15- or 39-credit-hour programs can be completed in either 1 year (Certificate) or 2 years (Master's degree), with the option to enroll during any academic term. The flexibility of the program allows students to extend the length of the program to 2 years (Certificate) or 3 – 4 years (Master's degree). The program is designed around a flexible schedule that enables busy professionals to balance work and personal life with a strategic investment in their career.
Seamless transition from Certificate to Master's level
As long as a "B" average is maintained, credits from the Graduate Certificate are completely transferable to the Master's degree. This feature of the program allows for a seamless transition should a Certificate student desire to continue in the program to earn a degree.
Curriculum & Concentrations
The program embodies the Appalachian mission in focusing on enhancing the quality of life of populations in both rural and urban settings, in addition to offering a strong core curriculum in general public health nutrition competencies.
Core Courses
Introduction to Community and Public Health
Health & Disease
Effective Rural Practice for Health Professionals
Life Cycle Nutrition for Public Health Nutrition Professionals
Public Health Nutrition Leadership and Practice
Research Methods in Nutrition*
Statistics for Health Care Administration*
Community and International Health Assessment*
Foundations of the U.S. Health Care System*
Environmental Health*
Diet, Obesity, and Disease*
Capstone Seminar*
Capstone Project*
*Master's degree course
For Further Information:
https://online.appstate.edu/programs/id/nutrition-ms
https://online.appstate.edu/programs/id/public-health-nutrition
To Apply
Application information is available from the School of Graduate Studies.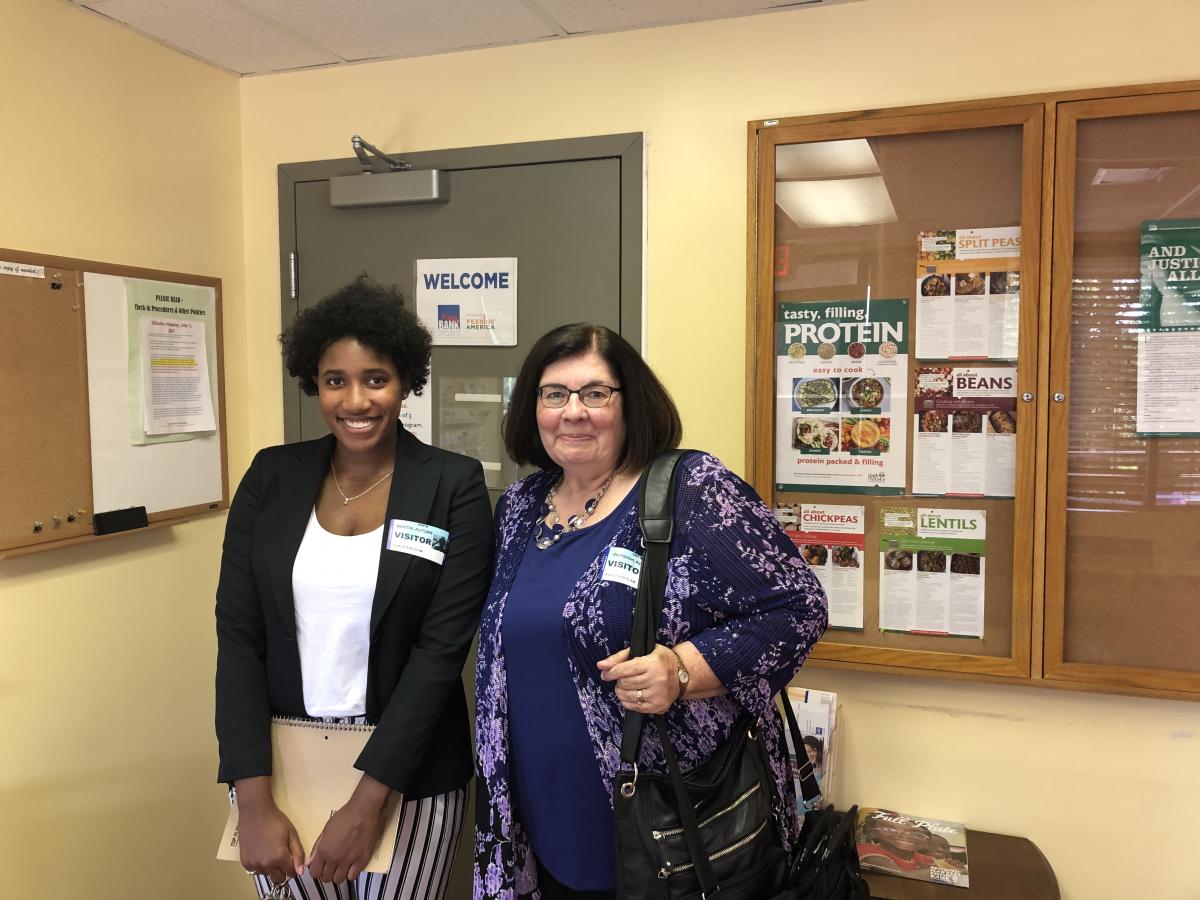 Research Spotlight
Addressing Health Disparities in Rural Nutrition Practice: A Qualitative Model from Rural Appalachia
Research conducted by Drs. Melissa Gutschall and Kyle Thompson, along with Ellen Lawrence, RD, an Appalachian State University Master of Science in Nutrition alumna, was published in 2017 in the Journal of Hunger and Environmental Nutrition.
The study used a mixed methods design to explore factors that affect food choices and nutrition care in rural Appalachian populations. Interviews and focus groups were conducted among a sample of rural practitioners (10), graduate dietetics students (10), and residents (10), and all participants completed descriptive questionnaires. Identified themes and subthemes were incorporated into 4 components depicted by the rural health nutrition care model: 1) Access and resources; 2) sociocultural characteristics; 3) traditional foods; and 4) health behaviors. Results were verified by participants. The 4 components were incorporated into a Rural Health Nutrition Practice Model (RHNPM).
The investigators hope that improved understanding of factors that affect nutrition care of rural Appalachian people can enhance cultural competence for nutrition practitioners who work with these populations. Drs. Gutschall and Thompson are currently engaged in further research designed to expand the usefulness of the RHNPM with other rural populations.