Jun, L. and Root, MM. Association of Carotenoid Intake with Pulmonary Function. J Am Coll Nutr. Oct 8: 1-5. DOI:10.1080/07315724.2020.1815608 (2020).
Graduate student Lauren Jun conducted this research on the association of five chemical carotenoids in the diet and lung function. Carotenoids, as the name implies, are the orange pigments common in carrots and other yellow, orange, and red fruits and vegetables. These foods include sweet potatoes, oranges, cantaloupe, and tomatoes. Certain carotenoids are also a source of vitamin A. For example, these pro-vitamin A carotenoids include beta-carotene. Ms. Jun performed a secondary analysis on an existing large dataset, the Atherosclerosis Risk in Communities (ARIC) study, which included approximately 15,000 individuals aged 45-64 years at baseline. The original researchers surveyed the participants on their dietary habits and also their lung function as measured by spirometry. Spirometry is how chronic obstructive pulmonary disease (COPD) is diagnosed. Using these data, a weak association was found between higher total carotenoid intake and better lung function. More interestingly, Ms. Jun found that the association between the three individual provitamin A carotenoids (and the foods that contained these carotenoids) and better lung function was much stronger than for other non-vitamin A carotenoids. These results were among people who were probably reasonably well nourished in vitamin A and so the results are rather puzzling and provocative. Overall, this research supports the recommendations to eat your colorful fruits and vegetables.
Click here for more the full paper.
(Photo by Liz West https://www.flickr.com/photos/calliope/, CC license https://creativecommons.org/licenses/by/2.0/)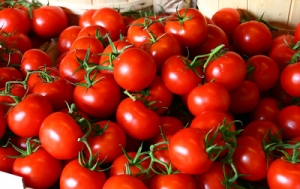 Tags: