The Appalachian State University Dietetic Internship Program has partnered with Lowes Foods to provide guided, nutrition-focused grocery store tours to App State students and community adults throughout Western North Carolina.
"The supermarket is my #1 top choice for a nutrition learning adventure," says Lowes Foods' Corporate Nutritionist Cindy Silver, MS, RD, LDN. "The store is a great 'classroom' and everyone gets excited about what they see, smell, touch and taste!" Ms. Silver has been Lowes Foods' Corporate Nutritionist for the past 16 years. She spearheaded a day of training for Appalachian State University dietetic interns at Lowes Foods Corporate Headquarters in Winston-Salem, NC, on January 11, 2013. During the training, interns had the opportunity to interact with Lowes Foods corporate marketing and management personnel, and experienced a store tour with Ms. Silver.
During the spring semester, ASU dietetic interns will be leading grocery store tours in Boone and in other communities throughout western North Carolina where interns are completing their on-site training. Tours are designed to offer solutions to the confusion that shoppers often experience when trying to make healthy food choices. Kyle Thompson, director of the ASU dietetic internship program, says "I'm delighted that ASU interns can gain practical experience and expertise in grocery store dietetics, a growing area of employment for nutrition professionals. We are most appreciative of Lowes Foods' willingness to provide our interns with such a marvelous opportunity."

Dietetic interns are in the final year of their intensive training in nutrition. The Appalachian State University Dietetic Internship program is part of the Graduate Nutrition Program, and is housed in the Department of Nutrition and Health Care Management, within the Beaver College of Health Sciences. After completing their 9-month internship, interns graduate with a Master of Science in Nutrition, and are eligible to take the Registered Dietitian exam. Graduates of the program work in a wide variety of settings, including health care facilities, schools, public health organizations, and corporations.
If you are interested in scheduling a grocery store tour during the school year, contact Kyle Thompson at thompsonkl@appstate.edu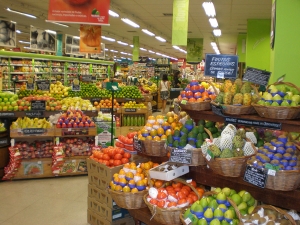 Tags: